Ear pain and neck pain often come together.
Pain under right or left ear or even both ears and down the neck when turning your head even slightly can make your life miserable.
This pain radiates in the neck area to the left or right side of the skull and just won't go away no matter what you do or who you ask.
The thing with radiating pain is that it makes it complicated to figure out: the list of symptoms associated with that type of pain is quite extended and includes:
pressure in top of skull
pressure inside the skull
pressure in ears and head
pressure in the back of the neck
head pain on right side or left side (or headache on both sides)
pain on top of head
tension headache and shoulder pain
pain under jaw and ear
ear pain and headache
sharp pain in either side of the neck
It won't take long before you start experiencing constant headaches (tension headaches actually) because of this pain under your ears.
And just because you sleep on your side, you wake up in the morning with severe pain in the head, pain in the skull, stiff neck, pain in the shoulders and the upper back, and you have no idea where it comes from or what to do about it.
You have seen a couple of doctors or physical therapist, but they can not help much.
Doctors will prescribe medications and rest but that doesn't really do any thing or if it does, you can not just spend the rest of your life taking pain-pills.
Physical therapist will prescribe exercises, stretches, massage therapy but again, this pain under your ear just won't go away.
Trapezius muscle massage
If you have tried everything, you may want to try this trick: it won't cost you anything and if you're lucky, it will help and you'll get some pain relief for a few hours or more.
All you need is something (I use a small book) to apply pressure to your trapezius muscle and a flat surface like a wall or a chair with a high backrest: I do this in the car and it works like magic. I can drive like that, no problem.
I place the book around the areas illustrated on the picture (that's where the trapezius muscle is).
Then I press my back against the flat surface: I don't press very hard actually: just enough to make sure that when I turn my head, whatever it is in my trapezius muscle that cause that pain under my ears, is blocked by that pressure.
Because it hurts below both ears when I turn my head, I do this like 10 minutes on the left side, then 10 minutes on the right side.
While the book is between my traps and the flat surface, I turn my head: if the pain below the ear is still there, i reposition the book (it's actually close to the top of the shoulder) and when I find the right spot, the pain just goes away after a few minutes: I can turn my head like 90° and stay like that as much as I want, the pain has gone!
Neck stiffness remains of course, but it's not so painful and at this point, it's a relief.
Massage of the Splenius Capitis muscle
We are told to stretch our neck several times a day to make this pain go away but I have the feeling that this stretching thing is only making things worse.
This picture of the upper back shows exactly what this neck pain problem is about.
The red zone covers the inflammation in the area where it hurts and as far as the pain when turning head is concerned, you need to focus on the two yellow arrows pointing to the splenius capitis muscle.
Those are the reasons why your neck hurts when you turn your head and also why you may feel constant headache (or tension headache, if you prefer). The tension headache is that feeling that something is compressing your head and nothing can make it go away: you may take some pain killers and if your lucky the pain or some of the pain will go away, but the tension remains.
So, back to the splenius capitis: using your thumb and your index finger, look for a tiny painfull muscle that goes from the neck to the bottom of the skull: it hurts like hell, so you should find it in seconds.
Got it ?
Pinch it, roll it, massage it as long as you can
Now, pinch it, roll it, massage it as much and as long as you can until it starts hurting less (I suggest you lie down to do this because this may take a while and cause some tension & stress in your arm or shoulder).
Generally speaking, you should never keep your arms lifted for a long period of time, espescially if you suffer from neck or shoulder pain, or back pain either.
Like for the most of us, our poor friend here doesn't have a clue of what to do about the pain and is massaging the wrong area.
If this part of the back of the head hurts, it is the likely to be the root cause of constant tension headaches
When you're done massaging the splenius capitis on one side, start massaging it on the other side.
Hopefully it's not just me so, go ahead and try it out.
Opposing forces
To get pain relief in your neck from a pain that occurs when you turn your head try this one:
1. Apply pressure with your hand right where it hurts
2. Keep pushing with your hand & apply opposite force with your head
3. Use your free hand to push in the same direction as your first hand.
Hold for 30 seconds.
Neck pain, ear pain & TMJ
Ear pain is a known symptom of TMJ syndrome.
TMJ stands for temporomandibular joint: this joint connects the lower part of the jaw to the skull somewhere around the region of the ears (on both sides of the head, obviously.)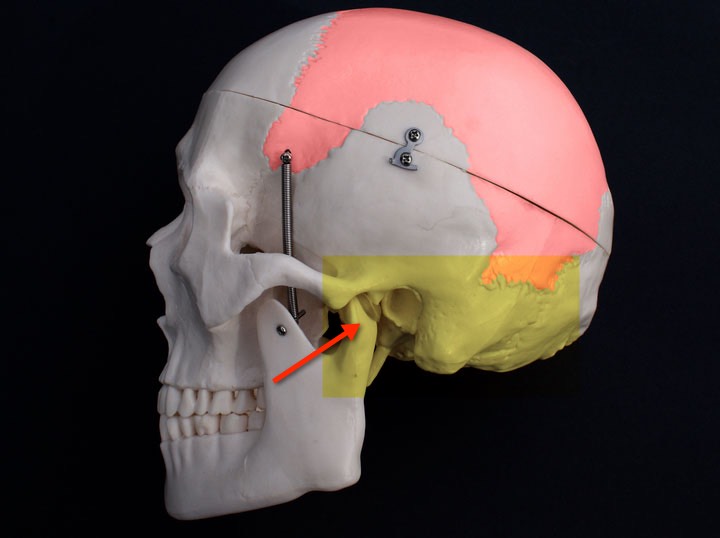 As seen on the image above, the TMj connects to the skull at a point very close from the ear: it's easy to understand why a malfunctioning of the TMJ would be the root cause of ear pain, mastoid process pain, occipital bone pain and even facial pain. And these types of pain are likely to be responsible for tension headaches.
So, if you have already been diagnosed with TMD (temporomandibular disorder), this is a lead you need to follow, to try and find a reason for you ear & neck pain.
If you haven't been diagnosed with TMD or TMJ syndrome, you should a doctor (stomatologist is the one who can diagnose TMD's).
If you're in pain while lying in bed and feel disconfort somewhere in the upper part of the body but can't pinpoint exactly where it hurts, try putting something rigid between your jaw and your pillow (a small book can do the trick). This always gets me some relief.
Tension headaches & neck pain self massage video
So I assume you've tried everything to ease the pain in your neck, including neck massages. But…
Have you ever tried massaging your neck with the other hand ?
And by the other hand, I mean: if you massage the left side of your neck, then do it with your right hand.
You get a much better grasp of the painful area by massaging with the opposite hand and the pain goes away within minutes (at least for me)
I hope it works for you too, so try it out and let me know how it goes.
2018 MRI, finally!
For some reason, I had to wait for almost 2 years before a doctor thought it would be a good idea to have an MRI of the cervical spine and thoracic spine (mid-back & upper-back). Actually I alreay had an MRI of the cervical spine when this whole constant neck pain started, but it wasn't shoing anything.
It turns out that I have quite a bit of problems that would explain the constant neck pain, the headaches, the pain in the upper back.
Degenerative disc disease & degenerative vertebrae disease both in the cervical spine & thoracic spine. This includes Osteophytes (also known as bone spurs: bony projections that form along joint margins).
That is part of the aging process & every one is at risk. Some of us will never feel anything, some of us will. It depends on genetics, life style, you know…:what have I done to diserve this.
The MRI also shows a bulging disc in the neck: C5-C6. This particular disc is damaged and is protruding in the spinal column, causing inflammation and pain. I can feel the pain on the spot, but this bulging dosc could also be responsible for the constant headaches & tinglings.
Small disc herniation in the thoracic spine (D5-D6). So that would explain I have the feeling that someone is sticking a finger between my shoulder blades & won't let go.
So, now, I think I can stop looking and start healing. I have an appointment with a neurosurgeon next week, lets see how that goes…